How AXIOS Keeps Your Industrial Project on Time and on Budget
From Construction Scaffolding to Industrial Coatings, We Save Time and Money.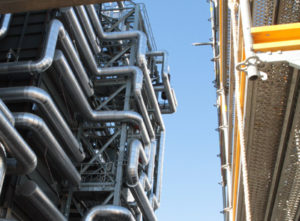 All industrial projects, whether they involve scaffolding, insulation, coatings or other services, require timelines and budgets to plan for success. An industrial solutions contractor can offer valuable expertise in both disciplines.
Many contractors offer turnkey services, but what sets one contractor apart from the rest is the quality of these services. A vendor may say they provide timelines and budgets, but how do you know they have the expertise and knowledge to back up those claims?
AXIOS Industrial Group is ready to prove to you that we make and keep our promises when you partner with us. Here's how we stand out.
How We Keep Your Project On Time
AXIOS improves a project timeline in five key ways.
Our 3D modeling permits you to review and approve every aspect of a scaffolding project without setting foot on site. From the planning stage forward, you can view the progress of a scaffold design from any angle. During the process, requested design changes are easily made and a modified design is quickly implemented. Scaffolding work does not begin until you provide the final approval.
In addition, AXIOS uses the PERI UP Flex Modular scaffolding system, which assembles faster than other scaffolding. It's versatile and has the added advantages of easier installation with fewer craft while exceeding all safety standards. In addition, its grid system and prefabricated, interlocking parts adjust fast should penetrations or site conditions change.
As your project evolves, our AXIOS AIM-POINT Work Request App streamlines the work review process and saves time, increasing productivity. This smartphone app lets you supervise your site's progress without ever leaving your workspace. We'll post photos and video illustrating our insulation, industrial coatings and scaffolding solutions. This frees up more time for you and your team to concentrate on what you do best while still keeping an eye on how the project advances. You and your teammates can post comments and request changes at every stage.
Our proprietary AIM-PROVE productivity software tracks work scheduled and completed on a daily basis, in real time, down to the date, project, team and crew member. AIM-PROVE analyzes this data to find inefficiencies or roadblocks in the task and helps reduce unproductive time.
We continuously apply what we learn during projects to further shorten timelines. While all sites have their unique challenges, they also provide opportunities to discover more efficiencies without compromising safety. Our years of expertise and knowledge of industrial services keep us ever mindful that it's your time we're spending.
And since, as the saying goes, time is money, here are some of our cost advantages.
How We Keep Your Project On Budget
We have many competencies to help you stay within your cost allocations. Here's a look at five capex project management approaches.
Our AIM-PROVE productivity software identifies inefficiencies in your project and gives an opportunity to discuss the restraint. This information can help reduce the number of hours needed for task completion, lowering your costs.
For scaffolding budgets, the PERI UP system creates scaffolding on any scale but with fewer personnel than other scaffolding. By limiting your site head count while maintaining an efficient timeline, you save considerably on labor costs. In the project evaluation phase, we'll present a realistic estimate of how many craft personnel we'll need to meet your goals safely.
For tank coating rehabilitation services, we employ more leading-edge technologies, including Blastrac, a system designed to minimize unexpected expenses associated with regulatory or environmental risks. All of our services aim to extend the life of your assets, so you not only enjoy good value today but amortize your costs over several years.
Our 3D modeling allows scaffold pre-planning and helps to mitigate costly craft-hours by reducing scaffolding modifications in the field. By working with your team we can lower the number of craft required on site and craft hours on the project through this program.
AXIOS is a forward-thinking soft craft solutions provider with a project optimization mindset. Our digital tools and craft-hour saving material technologies help your project save money while reducing safety risks.
Save Time on Your Next Construction Scaffolding, Insulation or Coatings Project
AXIOS boasts a long list of successful on-time, on-budget industrial maintenance services projects and delighted customers. We will happily provide testimonials upon request.
Regardless of your project scope or specifications, AXIOS Industrial Group will create a solution specific to your needs. Fill out the form below to get in touch with one of our industrial services experts. We'll maximize your project's value while minimizing its risks. Contact us today.