Extending Coating Life With Proper Surface Preparation
How Blasting and Hydroblasting Services Protect Your Critical Assets​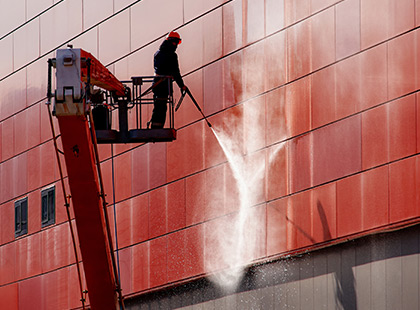 Efficient, durable coatings begin with proper surface preparation. Done correctly, prep work will prime your surfaces for a successful coating job while still controlling resources.
Depending on site and asset size, manual surface prep can demand a high head count and labor costs. But mechanized, cost-effective blasting services complete the work in a fraction of the time with fewer contractors.
What kinds of services can you hire, and which will suit your needs best? Here's a quick rundown.
Types of Industrial Service Preparation
Blasting Services
Best for stripping contaminants, rust, paint and other imperfections from your surfaces, blasting prepares assets for fresh coatings that will keep them in prime condition and free of corrosion longer. Blasting and stripping methods useful at industrial facilities include:
Automated Blasting: Uses compressed air at extreme velocity to remove debris and old coatings
Blastrac: A branded vacuum blasting process using steel shot to remove top layers from surfaces, preparing them for resurfacing. As contaminants get stripped away, air washing removes the dust and impurities. The process uses no chemicals or water and recycles the media, making this an environmentally conscious option.
Chemical Stripping: Physical softening and separation of materials from surfaces, especially paints, using coatings of chemical remover. After a given length of time, manual labor or machines complete the separation.
Dry/Wet Abrasive: The dry abrasive method, also called sandblasting, uses high-velocity silica to strip surfaces. The similar wet abrasive process moistens the media with water as it removes coatings but has the added benefit of reducing airborne silica particles on site and the hazard risk.
Mineral Abrasive: A stream of mineral media applied with high air pressure to remove surface contaminants. You have multiple abrasive options depending on your blasting services needs. These can include the silica and metal-shot blasting mentioned above or minerals such as aluminum oxide, garnet, magnesium sulfate and baking soda for a finer result. Ask your contractor for recommendations in their proposal.
Turbine Blasting: This grit-blasting process removes scale and deposits from turbines at fossil-fuel power plants. The turbines remain enclosed within tents throughout the procedure to prevent airborne particle dispersement. On-site blasting can prove more cost-effective than dismantling the turbines and sending them to the manufacturer for stripping.
Vacuum Blasting: The generic term for dustless or closed-loop abrasive blasting processes, such as Blastrac, vacuum blasting simultaneously combines abrasive blasting with the collection of loosened particles and blast media. Environmental benefits of the process include less airborne dust and attendant health hazards.
Hydroblasting Services
The high-pressure, water-based removal of paint, debris and product buildup can provide quick, affordable surface preparation. It's a procedure especially recommended for prepping tanks and removing old tank liners on chemical sites.
How Blasting Services Help Control Your Costs
Without proper surface preparation, industrial coatings can wear faster, increasing the risk of corrosion. This may result in additional costs and work stoppage until coatings get reapplied or assets get replaced.
Unlike manual surface preparations such as sanding or wire brushing, blasting and hydroblasting services use less labor and reach completion faster. Bottom line: You lower surface-coating expenses and get your site's assets back online sooner.
Which blasting services method to use depends on your individual needs. Since every site poses different challenges, it's best to discuss your specific requirements and solutions with industrial blasting specialists.
AXIOS Industrial Extends the life of your assets
AXIOS is a leading industrial services contractor providing scaffolding, insulation, coatings and other specialty solutions. Our professional teams demonstrate expertise in completing tasks to deadline while limiting head count, risks and costs on site.
Whatever your project in terms of specifications or scope, AXIOS will create a solution that exceeds your requirements. Contact us to protect your assets with efficient surface preparation.