Which company is best for protective coatings?
When selecting a company for protective coatings, look for one with a strong reputation, a commitment to safety and the resources to complete the job on time.
What are types of surface preparation using water?
Waterjetting is a type of surface preparation using water pressures in excess of 10,000 PSIG. This type of surface preparation is advantageous when abrasive blasting is not appropriate.
Wet abrasive blasting is the use of abrasive blasting equipment and materials aided by water injection. This is commonly used when dust control is the priority.
What is the difference between pipe lining and any other type of pipe coating?
Pipe lining is an internal application of a material and pipe coating is an external application. Other types of coatings are generally external applications.
What are the advantages of custom specified coatings?
A specified coating system ensures the appropriate type coating is used on any project. Specified systems go through a long vetting process, which involves a team of professionals from the owner, manufacturer and consulting engineer to determine the best coating system available.
What are some common types of industrial coatings?
Alkyd, zinc, epoxy and polyurethane coatings are common. The type of coating varies depending on the material coated and the system specified in order to achieve corrosion control from abrasion, dissimilar metal, chemical attack, microbiologically induced corrosion (MIC) or a combination of any other extreme environmental factors.
What are OSHA scaffolding standards?
WHAT ARE THE DIFFERENT PARTS OF SCAFFOLDING?
The main parts are standards, ledgers and transoms. Standards are tubes that support the weight of the scaffold. Ledgers are tubes that join the standards together. Transoms lean on ledgers at right angles.
HOW OFTEN DOES SCAFFOLDING HAVE TO BE INSPECTED?
According to OSHA regulations, a competent person must inspect scaffolds and their components before each work shift.
HOW IS PERI SCAFFOLDING ASSEMBLED?
Professionals mount decking directly on the ledgers and can adjust bay lengths in 25 centimeter increments. The Gravity Lock allows for quick assembly because when they insert the wedge head in the rosette, the wedge falls by the force of gravity and locks into place. This makes the assembly flexible and safe.
WHAT IS MODULAR SCAFFOLDING?
Modular scaffolding is made of prefabricated individual components that can be combined in flexible configurations. It's convenient to use when a building's facade is an unusual or complex shape such as a hexagon.
WHAT'S THE LOAD BEARING CAPACITY?
PERI UP scaffolding has a high load bearing capacity, up to Load Class 6 depending on the assembly.
WHAT SAFETY FEATURES DOES PERI UP SCAFFOLDING HAVE?
PERI UP has a nonslip, perforated surface, and working platforms have zero gaps. Its slip-resistant, galvanized steel panels lock automatically with Gravity Lock.
WHAT IS PERI UP SCAFFOLDING MADE OF?
PERI UP is a galvanized steel scaffolding system.
HOW DOES THE PERI UP SCAFFOLDING SYSTEM WORK?
PERI UP scaffolding operates on a grid of 25 and 50 centimeters. Its range of decks and ledgers have different lengths to enable decking to fit around any shape or obstacle.
WHAT SAFETY MEASURES DO YOU HAVE IN PLACE?
We comply with all OSHA and industry standards and have an internal Stop Work Authority policy to ensure the safety of everyone on every work site.
WHAT IS THE HIGHEST TEMPERATURE YOU CAN INSULATE AGAINST?
AXIOS Industrial offers high-temperature insulation up to 1500°F.
WHAT TYPES OF EQUIPMENT CAN YOU INSULATE?
We provide a variety of insulations for tanks and pipes. We also safely insulate high-temperature equipment such as boilers, turbines and breechings and low-temperature equipment such as chilled water systems and cryogenics.
WHAT TYPES OF INDUSTRIAL INSULATION DO YOU OFFER?
We offer high, intermediate and low-temperature insulation as well as removable covers and metal jacketing.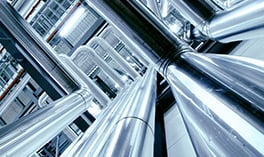 How to Select the Right Industrial Insulation Contractor
Cheaper isn't always better. Learn the questions to ask, and qualities to look for in an insulation contractor.
Get the guide