Reduce Maintenance Costs and Increase Asset Life With a Proven Industrial Insulation Contractor
AXIOS insulation experts are highly skilled applicators, trained to install a multitude of thermal insulation and metal jacketing specifications.
Our insulation services help facilities optimize safety, efficiency and expenditures during maintenance, turnarounds, outages and capital projects.
Safety and proper execution are paramount. Our team has completed extensive training in the intricacies of industrial insulation and always adheres to both the industry's safety guidelines and our rigorous internal standards. Whether your project requires new insulation solutions or upgrades to existing solutions, count on AXIOS to deliver customized services with your safety and success in mind.
AXIOS INDUSTRIAL MANAGEMENT (AIM)
Our AIM program is a comprehensive approach to improving process control, avoiding unplanned outages, increasing safety and optimizing environmental performance. With an in-depth understanding of the diverse purposes of insulation, AXIOS can identify and resolve issues that can compromise insulation integrity.
The AIM program includes
Evaluation and corrosion prevention (CUI)

Asbestos-containing materials (ACM) management

Damage assessment

Preventative maintenance

Reduction of downstream maintenance costs
INDUSTRIAL INSULATION SERVICES
Low-Temperature Applications (-459.6°F to 60°F)

Intermediate-Temperature Applications (61°F to 600°F)

High-Temperature Insulation Applications (601°F to 1500°F)

Metal Jacketing Systems

Soundproofing and Acoustical Absorption

Insulation Covers and Blankets

Custom Removable, Reusable and Flexible Applications

Corrosion Under Insulation
Low to High-Temperature Insulation
Headquartered in the Houston area, AXIOS has proven expertise in the numerous types of thermal insulation and metal jacketing required in the industrial sector. Our low-temperature applications include solutions such as chilled water systems and cryogenics. Intermediate-temperature facilities benefit from the widest range of insulation services, while our high-temperature insulation applications typically target boilers, turbines, breechings and other equipment.
For fireproofing, weatherproofing or lowering your maintenance costs, we'll install metal jacketing systems that guard against moisture, UV rays and other environmental or mechanical damage. Our team of specialists implement durable, corrosion-resistant metal jacketing in a range of alloys, finishes and thicknesses.
Soundproofing and Acoustical Absorption
Excessive noise poses risks to safety and productivity. Keep noise within OSHA acceptable levels with soundproofing solutions designed for industrial environments with heavy machinery and high-pitched processes.
Our team will install solutions customized for your facility such as portable or permanent blanket enclosures to create a wall barrier and encase loud equipment. We can also implement wraps to quiet pipelines and duct work and hang wall or ceiling panels to absorb noise.
Industrial Insulation Blankets and Covers
Reduce noise, protect workers from heat and conserve energy with low-maintenance industrial insulation blankets, pads and covers. Our team will install removable industrial insulation blankets for indoor or outdoor equipment such as tanks, valves, heat exchangers, cryogenic applications, pipes and turbines.
Custom Fabrication Solutions
For facilities with complex insulation needs, AXIOS delivers custom fabrication solutions addressing everything from noise reduction and energy efficiency to fire safety. Our team's best-in-class insulation solutions are proven to reduce risk and lower energy costs.
Corrosion Under Insulation
Through our corrosion under insulation (CUI) solutions, our experts can help you implement a proactive strategy to monitor, detect and minimize corrosion. If you suspect CUI already, we'll conduct a quantitative inspection of your insulation, assess its condition and create a solution to repair any damage. We'll deploy a variety of jackets, coatings and techniques to remove corrosion already present in industrial equipment and construct a preventative maintenance program to minimize future issues.
Partner With a Flexible Industrial Insulation Contractor
Talk to us about how we can customize our industrial insulation services, based in Houston with branches across the US, for your site.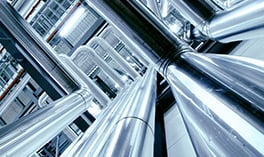 How to Select the Right Industrial Insulation Contractor
Cheaper isn't always better. Learn the questions to ask, and qualities to look for in an insulation contractor.
Get the guide