Facility Maintenance Strategies to Reduce TCO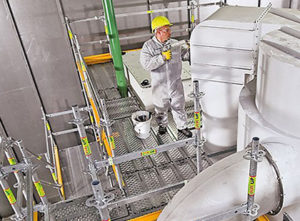 In facilities management, the upfront cost of acquiring equipment is only part of your overall financial planning strategy. When considering the big picture, you have to consider the total cost of ownership (TCO), which accounts for both the direct costs and the indirect costs to continue operations such as equipment maintenance and repairs. Fortunately, you can do a lot to keep TCO down through smart facility maintenance strategies.
Five Facilities Maintenance Strategies to Drop TCO
1. Define a Clear Vision for the Company Concerning Cost Savings.
First, it's worthwhile to take a close look at how leadership approaches the problem of TCO and communicate that vision to the rest of the company. Decisions can become complicated quickly, and it is helpful for everyone to have a compass to follow when making complex decisions, for example:
What are your company objectives?
What are your company priorities?
How can you measure progress?
Take the time to get clear about what you need to accomplish and make sure everyone is on the same page. It will lead to more consistency as you move forward.
2. Choose Your Facility Maintenance Company Carefully.
There are plenty of options when it comes to facility maintenance companies, but not all are equal. The top companies are those with a solid reputation and the ability to scale their services to your unique requirements.
When choosing a facility maintenance company, verify that your choice has good references and reviews. You also want to make certain that the company you choose can handle your facilities maintenance needs.
Ask questions:
Are they close enough to get to you when you need them?
Are they responsive?
Do they have the expertise to do the job right?
You definitely don't want to settle for second best when it comes to maintaining your high-dollar, critical equipment.
3. Don't Focus so Much on Saving Money Now That You Lose Money Later On.
One time when many facility managers make mistakes is during the purchasing phase of equipment acquisition. If you're trying to save as much money as possible when you buy equipment, you'll often wind up with equipment that isn't as durable as you'd like. It may break down, requiring repairs and possibly even needing replacement so often that you spend more over the long term. Your TCO can be higher when you go cheap at the beginning.
This is a situation where having a clear company vision can be helpful so your purchasing and maintenance teams can collaborate and share the same overall goals. If these teams are communicating, they can together determine which equipment makes the most sense for your company.
4. Make Sure the Job Is Done Right.
Paying for expertise is another way to keep your TCO down, even if it may seem expensive initially. There may be employees at your facility who have a knack for making repairs and can seemingly figure anything out. However, as good as they are and as tempting as it can be to save some money by having them do your repair work, you're better off hiring an expert.
The right facilities management company has the training and expertise to maintain and repair your equipment according to industry standards. It may charge more than the average worker at the facility, but it also has the know-how to do the job right. Fewer mistakes mean less chance of expensive repairs down the road.
5. Make Sure the Job Is Done When It Needs to Be Done.
Another area where facilities managers can run into trouble is by putting off equipment maintenance. It may seem too expensive right now, inconvenient or easy to postpone. Whatever the reasons, putting off regular equipment maintenance isn't wise. It can greatly increase your TCO because it increases the odds of equipment malfunction or complete breakage.
The purpose of regular maintenance is to keep your equipment operating as well as it can for as long as it can. Missing maintenance may not cause any problems, at first. But eventually, you'll suffer the consequences – any eventual repairs could be more extensive and more costly. Or, the equipment may need to replaced sooner than it normal because of a lack of maintenance.
One of the major advantages of hiring a skilled facility maintenance company is that you know your maintenance schedule will be kept to a T.
The AXIOS Difference – Cutting TCO
At AXIOS, we take TCO seriously. We appreciate the challenges you face in trying to keep costs down without sacrificing speed and efficiency. As your facility maintenance company, we can help you incorporate facility maintenance strategies to help lower TCO. We also go one step further with our AIM-POINT mobile app. Our app allows you to streamline your work request process through one centralized portal. It's designed to get us to you faster and more efficiently, cutting your downtime and the costs that come along with it.
Through our app, you can quickly explain your needs, including using images, and request our services – all from your mobile device. After you file your request, our site management team will receive push notifications letting them know what you need.
This app can eliminate wait time and the multiple site visits so often required from other specialty contractors – we respond 15 to 20 percent faster than our competitors. The app also keeps track of all of your requests, so you can access the data and view all work requests when you need to.
If you would like more information on how AXIOS can help you with your facility maintenance needs, please contact us. Our company is ready to save you money and improve your outcomes simultaneously. Talk to us to start lowering your total cost of ownership today.