Phosphate Producer Awards AXIOS Multiyear, Multiservices Contract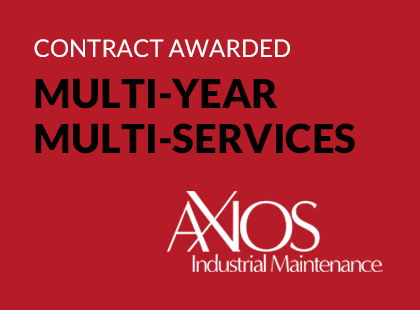 THE WOODLANDS, TX – December 17, 2018 – AXIOS is honored to announce the awarding of an agreement with the world's leading integrated producer and marketer of concentrated phosphate and potash. AXIOS is the dynamic industrial services partner for customers who value safety, productivity, predictability and unparalleled expertise.
AXIOS will be providing scaffold, insulation, coatings and specialty services for maintenance, turnaround and project activities over a multiyear time frame.
"This award is an example of the synergies between our industry leading expertise and the commitment to our advanced technology platforms. Our customers continue to communicate the need for a more advanced, solution-based approach to their needs, and we have responded. Our mission is to provide a best in class service to our customers while realizing the needs of a safe, cost efficient and reliable project execution. I am confident and excited that our team can deliver on these elements. It is an exciting time to be partnered with AXIOS," said Chris Romano, AXIOS' Executive Vice President.
Delivering comprehensive, innovative solutions to the industrial sector for more than 52 years, AXIOS is a leading provider of industrial scaffolding, insulation, coatings and other specialty service solutions for turnarounds, capital projects and routine maintenance. AXIOS also excels as a specialty contractor for the oil and gas, power generation, agriculture, pulp and paper and pharmaceutical markets. By combining unparalleled expertise with leading-edge technology, the company consistently maximizes value for customers seeking comprehensive industrial services.
Headquartered in The Woodlands, Texas, AXIOS maintains offices and operations throughout the United States.