AXIOS Establishes Southwest Division Office and Scaffold Yard in Pasadena, TX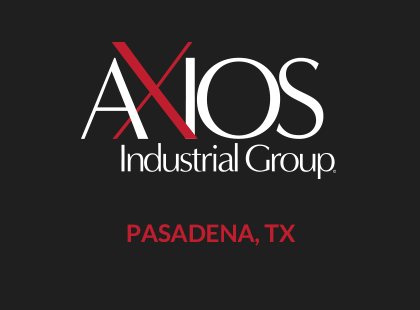 THE WOODLANDS, TX – October 8, 2018 – AXIOS is pleased to announce the opening of our new southwest division office and scaffold yard in Pasadena, TX.
The new office and scaffold yard is integral to the expansion plan of AXIOS across the Gulf Coast. The facility allows for quicker turnaround and response time for our customers and expands our ability to
become a productive member of the communities in which we serve.
This new Southwest location has allowed AXIOS to build a winning team of industrial and commercial services' veterans that will be led by Keith Williams. Keith serves as the Senior Construction Manager for AXIOS Industrial Maintenance Contractors, Inc. – Southwest. Keith brings with him a wealth of proven experience within the industry of managing safe, efficient and successful large-scale projects throughout his career.
Chris Romano, Executive Vice President, AXIOS Industrial Group commented, "The commitment to our customers across the gulf coast is evident through the addition of our team in Pasadena. Their addition to the AXIOS team only adds to the well-rounded and highly respected Leadership Team in place at AXIOS across the country. Our mission is to provide a best in class service to our customers while realizing the needs of a safe, cost efficient and reliable project execution. I am confident and excited that our team can deliver on these items and exceed our customer expectations. It is an exciting time to be partnered with AXIOS."
ABOUT AXIOS INDUSTRIAL GROUP​
Delivering comprehensive, innovative solutions to the industrial sector for more than 52 years, AXIOS is a leading provider of industrial scaffolding, insulation, coatings and other specialty service solutions for turnarounds, capital projects and routine maintenance. AXIOS also excels as a specialty contractor for the oil and gas, power generation, agriculture, pulp and paper and pharmaceutical markets. By combining unparalleled expertise with leading-edge technology, the company consistently maximizes value for customers seeking comprehensive industrial services.
Headquartered in The Woodlands, Texas, AXIOS maintains offices and operations throughout the US.