AXIOS Industrial Announces New Proprietary Water Filtration Process for Tank Coating and Liner Removal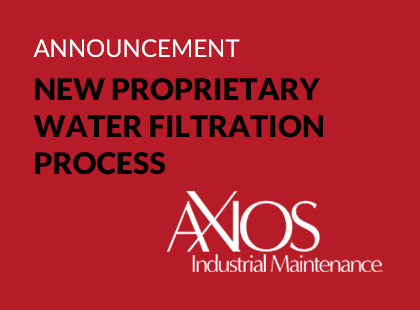 HOUSTON, TEXAS, June 14, 2018 – AXIOS Industrial, the trusted specialty crafts partner for project leaders who value safety, productivity and predictability, announced today it has launched a new proprietary water jetting and recovery process for the removal of tank coatings and liners. Utilizing a 40,000 psi high-pressure pump, the AXIOJET™ Water Recycle Process removes thick epoxy film liners and fiberglass, filters the water, drops its temperature and requires only 3,000-4,000 gallons of water to treat tank floor bottoms and two to three feet up the tank sides. Safe and environmentally friendly, the new AXIOS process is much more cost-effective than alternative methods.
"While abrasive and automated blasting or heat induction processes have been the practice for removing tank liners for years, the future of the task is without a doubt the AXIOJET™ Water Recycle Process," said Chris Romano, AXIOS Corporate Senior Vice President. "This cleaner process with reduced cost impact sets the method itself apart from others, while the water reclaiming and reuse aspect distinguishes AXIOS from other contractors."
Water jetting processes have the potential to produce large volumes of wastewater—in some cases exceeding 30,000 gallons, depending on the size of the liner or coating being removed. The AXIOS process results in only 2,000-4,000 gallons of disposable water. AXIOS' ability to recover and reuse the water has a significant impact on the volume of waste generated and associated cost of disposal, and ultimately reduces the customer's environmental footprint.
Delivering comprehensive, innovative solutions to the industrial sector for more than 50 years, AXIOS Industrial is a leading provider of industrial scaffolding, insulation, coating and other specialty service solutions for turnarounds, capital projects and routine maintenance. AXIOS also excels as a specialty contractor for the oil & gas, power generation, agriculture, pulp and paper and pharmaceutical markets. By combining unparalleled expertise with leading-edge technology, the company consistently maximizes value for customers seeking comprehensive industrial services.
Headquartered in The Woodlands, Texas, AXIOS maintains offices and operations throughout the United States.