AXIOS Wins ABC Step Safety Award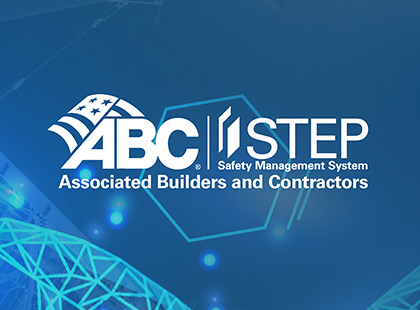 AXIOS has received an Associated Builders and Contractors (ABC) STEP Platinum Level Safety Award for 2020. This award recognizes AXIOS' excellent safety record and participation and platinum ranking in the ABC STEP Safety Management System.

AXIOS and other participating firms measured their safety policies and processes on 24 key components in 2019 through a detailed questionnaire. The goal was creating or augmenting safety programs to decrease worksite incident rates.
To join STEP, AXIOS and other companies:
Evaluated their safety and loss programs
Learned the best practices that decrease days away, restricted or transferred (DART); electronic health record (EMR); and total recordable incident rate (TRIR)
Analyzed their safety records against comparative companies and industry averages
Measured year-to-year improvement
Demonstrated their safety commitment to clients and insurers.
The highest-performing STEP members instituted these best practices as part of a safety management system. Platinum-level award winners
Earned a TRIR 25% below the BLS NAICS average for the data year
Met a minimum score on 24 critical components
Had no lives lost or company-wide catastrophic incidents during this and the previous three years that resulted in an OSHA citation
Had an EMR at or below 0.8 beginning Jan. 1 of the application year.
STEP Platinum members are 328% safer than the BLS average and had a BLS average of a 70% reduction in TRIR. Companies can earn a participant, bronze, silver, gold, platinum or diamond rating.
Applying best practices and processes boosts safety performance among participants, regardless of type of work or company size, according to STEP. This can include tracking and monitoring activities to prevent injury, such as training, safety orientation and behavior-based safety observations.
AXIOS' dedication to safety is seen in the AXIOS safety promise as well as in our development of our proprietary safety app, AIM-SAFE, to digitize job safety analysis forms, equipment inspection forms, and safety manuals and training.