AXIOS Industrial Awarded Major Tank Coatings Projects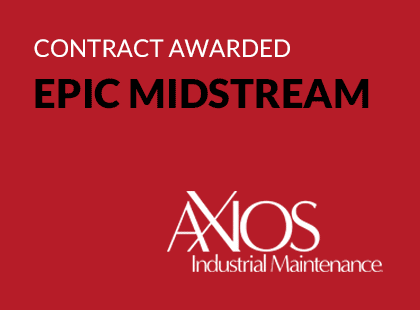 THE WOODLANDS, TX – February 10, 2020 – AXIOS is honored to announce the awarding of multiple coatings projects with EPIC Midstream at their Robstown, TX location. AXIOS is the dynamic industrial services partner for customers who value safety, quality, productivity and predictability.
AXIOS will be providing extensive specialty coatings services to fulfill the high level of requirements set forth for these projects. Both EPIC and AXIOS have partnered throughout the planning stages to provide an achievable plan of action that will result in a safe and quality delivery of our services.
"This award is an example of the synergies between our industry leading expertise and our long-standing commitment of providing safe, quality services. Our customers continue to communicate the need for a more advanced, solution-based approach to their project needs, and we continue to respond. Our mission is to provide a best in class service to our customers while realizing the requirements of safe, cost efficient and reliable project execution. I am confident and excited that our team will deliver on these elements. It is an exciting time to be partnered with AXIOS," said Chris Romano, AXIOS's Chief Operating Officer.
ABOUT AXIOS INDUSTRIAL GROUP
Delivering comprehensive, innovative solutions to the industrial sector for more than 54 years, AXIOS is a leading provider of industrial scaffolding, insulation, coatings and other specialty service solutions for turnarounds, capital projects and routine maintenance. AXIOS also excels as a specialty contractor for the oil and gas, power generation, agriculture, pulp and paper and pharmaceutical markets. By combining unparalleled expertise with leading-edge technology, the company consistently maximizes value for customers seeking comprehensive industrial services.
Headquartered in The Woodlands, Texas, AXIOS maintains offices and operations throughout the U.S.